When first introduced to crypto, besides for the obvious Bitfinex spill I was told to create a Bittrex account to get in on Antshares(now known as NEO). I do so and am fairly happy with the Bittrex interface and security and began settling in to this one as my main source for altcoins. All of this changed when a colleague tells me that the GAS generated by NEO could be distributed to me if I simply held my NEO on a different exchange(which was the only exchange offering this at the time) instead. After hearing this I wasn't immediately sold on the exchange and didn't jump to transfer all funds but my interest was surely peaked and the research began.
In the time that followed, Binance slowly started and has continued to become my favorite exchange to use. With the active multilingual support channels, community-driven promotions and fast-growing exchange capabilities, I am confident that it will become one of the most widely used exchanges in the world.
Let's start with the dedicated marketing team.
Holy Promotion!
If it wasn't for the efforts put forth by their marketing team the Binance train wouldn't have picked up as much momentum as it did; however results like that are expected when you dedicate 50% of funds to branding/marketing.
One of their earliest promotions was a Free Trade Fee during which traders enjoyed 0 fee trading (0.1% trade fee otherwise). They began this promotion on July 25th which was the same day that their utility token, Binance Coin(BNB), began trading. It is worth mentioning while there were zero fees the buy/sell screen still showed the option to get 50% of fees for using BNB to pay. This was a very smart move by the branding team to draw much needed buzz around their token which was trading around $0.11 at that time; but we will speak on more BNB later.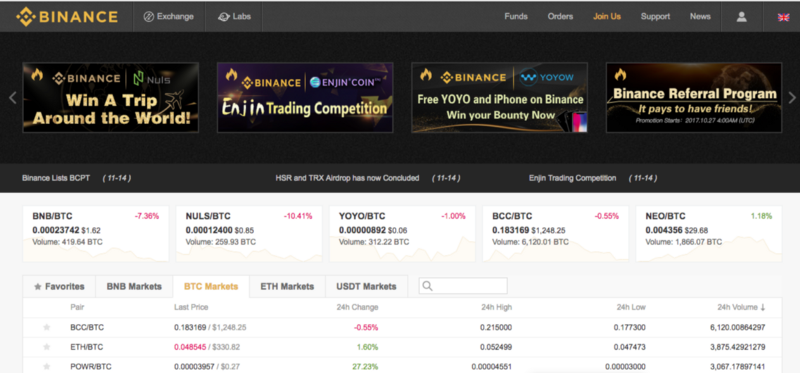 With the end of that promotion in September, the team has continued to run numerous campaigns and giveaways as a way to grow the community and get the people involved in building the exchange. This includes Coding Competitions for developers, Binance Video Competition for the creatives, Trading Competitions for the daytraders, Retweet/Follow Giveaways for their social media following, and now again Binance Stories Competition.
To further increase community involvement, they started a Monthly Community Coin Program in September. After passing their strict screening process, Binance allows for coins and their communities to vote for their coin to be listed on the exchange for free. They weigh all factors when counting votes and filter for oddities/cheating that may occur; not to mention it cost 0.1 BNB per vote. Through this program coins like Verge(XVG), Bitquence(BQX), last one to date, Bytecoin(BCN) and others have been listed on to the exchange.
It is through continued efforts like these which directly engage the people of the community that will set the standard for the many other exchanges and make Binance one of the leading forces amongst them.
Power of the People
The work doesn't stop at the marketing level. Once based in Shanghai and has intention to move its operation to European island of Malta, the team is working towards decentralization and are setting themselves up for it by offering language support in various languages(English, Chinese, Russian, Spanish, Korean and latest is Dutch); they have an active support team of Binance Angels that was once on Slack but has since moved to Telegram talking with the community of tens of thousands of users daily. With the growth of the exchange happening so quickly, they called on some of their early investors to act as community liaisons and chose a group of people that they dubbed Binance Angels who help aide the team's growth in exchange for certain benefits.
Not only is the team fast to respond, the exchange has one of the fastest matching engines in the market today able to handle 1,400,000 orders/sec. But I am not here to bore you with what you can read in the white paper. The User Interface and Mobile App(available on Android/iOS) they have built and continue to tweak is easy to use and is getting new features added as the exchange grows. It is to be noted that they currently lack certain features that will keep seasoned traders from making this their go-to exchange today but the team is actively working and hinting at the addition of these features in the near future.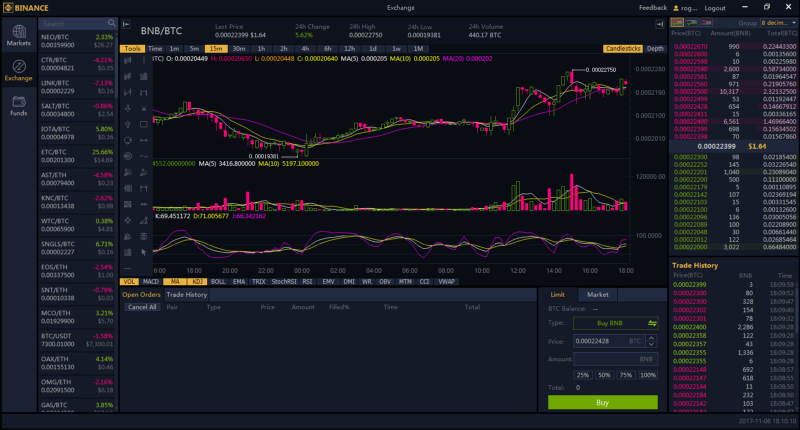 With only eleven months of operation the team is working hard and everyday they are taking suggestions from these traders and people in the community on features that they can add to make this the exchange of choice. They have basic/advanced trading options available from their site and a PC Client available.
What is Binance Coin?
Binance introduced it's own token back in mid-July and it has since seen steady growth along with the exchange. I've mentioned a few use-cases for the token on the exchange above(trade fee discount, coin voting) but these uses for the token came once the need was realized by the team which further exemplifies the potential for this token. As the exchange grows and potential uses for the token arise the value of it will go up as well making a great long-term investment.
They plan to power the exchange through the token and though the running of ICOs has taken a backseat, they created the idea to host ICOs directly on the exchange and continue to be innovators in the possibilities of what an exchange can do. Binance Labs is a project they started which focuses on helping teams pre-ICO. They have even began opening trading pairs against BNB and holders can now buy certain listed coins.
Though they have been rather quiet about how they plan to move from centralization to decentralization, it has been stated that BNB would play a major role in doing that. The white paper explains the team's plan to use 20% quarterly profits to buyback and burn BNB until half of the 200MM supply is destroyed which will further drive the price of BNB up. At midday Sunday 16 April, the cryptocurrency exchange Binance
announced
it had successfully burnt 2.2m Binance Coins, a little over 1%, which at yesterday's prices was roughly equivalent to $300m. This means that the total supply of BNB has decreased to just under 195m coins.
BNB reached an ATH of $22.32 and due to the recent FUDhas since been trading around an average of $13.70 the past week or so. The CEO who is known across the web as CZ has stated that the team isn't focused on promoting the token and that their focus is creating the top exchange but if the current movement has been any indicator, the future of the token is closely tied to that of the exchange which makes it one of the better long-term investments.
The team continues to work. Even with all of the FUD going on in the crypto-verse the past two months, driving money away from altcoins and down to prices we thought we would never see again, the team continued working. Not only are they working, they are being noticed and their practices implemented by other younger exchanges working towards doing what Binance has in these few months.
Amongst the top ten exchanges in volume by month three, Binance, with its monster team of developers and advisors, has a difficult and long road ahead to becoming the top crypto exchange it knows that it has the potential to. But with the dedication and efforts shown by the team thus far I am confident in them executed and being around for the long haul!
Before the ICO launch the team was quoted as saying:
"We know this will be an ultra competitive space. There are probably hundreds, if not thousands of teams wanting, planning or doing exchanges. The competition will be fierce. But in this age, this is a common risk in any decent concept/start-up or a mature company. The question is: given our team, track record, experience, industry resources, and product, do you believe we stand a better chance than the rest of the pack?"
If after reading this you still aren't signed up for Binance and want to be you can use my reference link:
https://www.binance.com/?ref=10063911
Join the Binance telegram:
https://t.me/binanceexchange